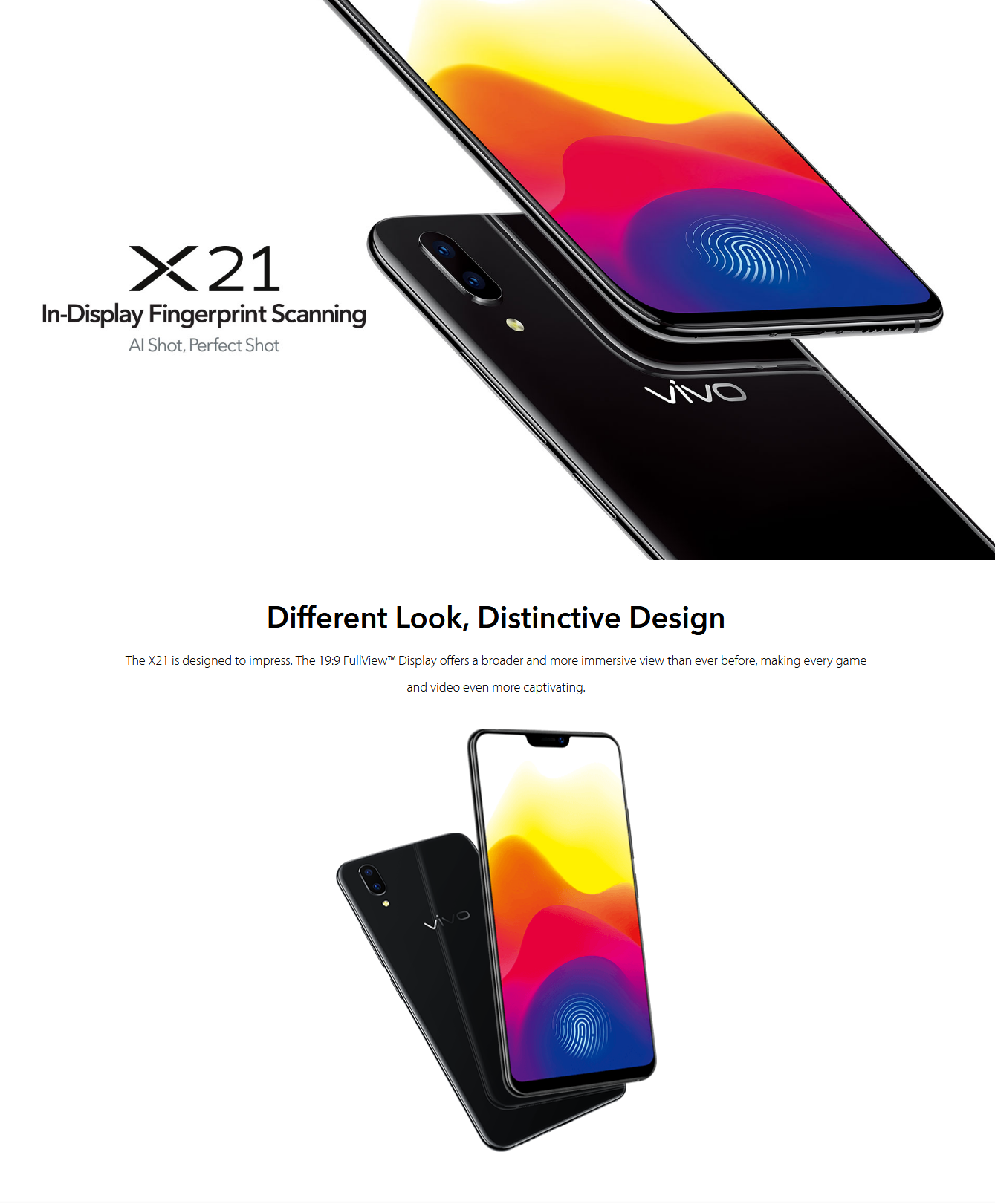 A Wider View, A World of Excitement
On the X21, Vivo's iconic FullView™ Display enjoys an amazing 19:9 aspect ratio, with ultra-narrow bezels of just 1.66mm. The screen-to-body ratio is boosted to 90.3%, providing an even wider view with far greater visual impact for games and videos.
Light, Color and Unique Style
And the new 3D glass back cover is the perfect mix of technology and artistry. More than just smooth to the touch, it uses a new color-blending technique, which makes light and shadow dance across the surface with every movement. It's this level of exquisite detail that makes your X21 truly unique.
Always on Display – Always by Your Side
Sometimes, you need to access information fast. The X21 allows you to check the time, view missed calls and message alerts without activating the screen. You can even personalize the clock color and theme to add excitement and style, and the Live Wallpaper feature creates a different look every time you unlock.
Your Fingerprint to the Future
The X21 brings you one step closer to the perfect FullView™ by using the latest In-Display FingerprintScanning Technology. With the fingerprint pad embedded in the screen, all it takes is one touch to activateyour digital life hub, in fast, futuristic style.
Lift, Scan, Unlock
AI Face Access uses an intelligent algorithm to scan your 3D facial features in just 0.1 seconds. It's also enhanced by an infrared light to allow for night-time access. Lift, scan and unlock – your X21 gives you immediate access anytime, anywhere.
Dual Pixel Sensors24 Million Photographic Units
The X21's front and rear cameras are both 12MP (24 million photographic units), and each pixel's photographic area is as large as 1.28μm, which boosts picture clarity. On top of this, fast focusing technology captures all your fleeting moments.
Perfect Shot, even with Backlight
AI HDR intelligently detects ambient light intensity. Even in dark or backlight situations, you can be sure that every photo is a masterpiece.
AI Face Beauty Selfies Tailored to Your Unique Look
AI Face Beauty gives a major upgrade to the Vivo's classic Face Beauty feature. It recognizes your unique facial features, and continues learning and improving to create the perfect selfie. Think of it as your personal make-over team packed into one intelligent device. Even with backlight, your entire face looks bright and naturally beautiful.
Technology to Empower Your Photos
The X21 uses AR technology to inject some serious fun into your photos. There's also Palm Capture, the simple way to take a shot when you can't reach the 'click' button. If this wasn't enough, Selfie Lighting creates photo studio-style light effects to transform every photo into a professional magazine image.
AI Game Mode
With the all new AI Game mode, your X21 knows it when you play games and transforms into a dedicated game console, with features to help eliminate distraction. The Background Calls feature means you can stay on calls without stopping the gaming fun, and Game Mode prevents accidental touch operations, ensuring you only make the moves you intended.
Powerful Performance Designed for the Future
With a Qualcomm Snapdragon 660 AIE processor and 6GB RAM, the X21 has enough power to manage complex multi-tasking challenges with ease. It's also equipped with a 3200mAh battery, plus Dual-Charging Engine technology to keep you up and running all day long.
Deepfield technology
It also equipped with Vivo's customized Deepfield technology, which enhances vocals and amplifies bass. You will feel as though you're really there, listening to your favorite bands perform live.