CLiPtec RGK815 USB Illuminated Professional Mechanical Keyboard-Pletero87 is a mechanical professional keyboard which combines solid profile metal top cover finish. It is constructed with high grade blue switches with 50 million times keystroke lifespan construction with double injection for keycap. An adjustable stand is installed at the bottom of the keyboard which can adjust the angle of the keyboard to fit their requirements.
100% full anti-ghosting, which is particularly important especially for FPS gamer which multiple keystrokes are constantly necessary. It is pre-programed the many FN combination keys for your useful function that is surely offering you the greatest convenience, No matter you want to volume up and down, louder the speaker, start on email anytime, all can be done by amazing one press of these specially designed quick access buttons. 10 modes illuminated backlight patterns with full adjustability for speed and bright are also included directly into keyboard hardware like: LED spreading diagonal, running, spreading, waving, breathing and single LED lighted. 10 group of LED can be customization for the different games.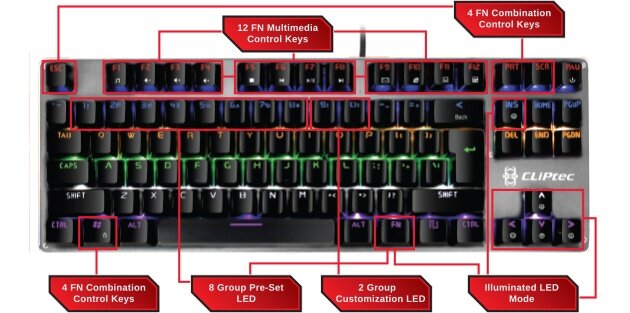 FN Combination Control Keys
Anti-Ghost 6 : Press FN SCR to switch to 6 keys anti-ghosting function switch
Anti-Ghost 87 : Press FN PRT to switch to 87 keys anti-ghosting function switch
Factory Reset : Press the FN Esc for 3 seconds
Win Lock : Press FN Win key to lock the window key, release when press again
FN Multimedia Control Keys
Media : Press FN F1 to start media system
VOLUME – : Press FN F2 to derease volume
VOLUME : Press FN F3 to increase volume
Mute : Press FN F4 to mute sound, press it again to resume sound
CD Stop : Press FN F5 to stop the CD
Previous Track : Press FN F6 to set media previous by one track
Play/Pause : Press FN F7 to begin play a video file, press it again to pause the file
Next :Press FN F8 to set media next by one track
Email : Press FN F9 to start the email system
Home : Press FN F10 to go to the default home page
Computer : Press FN F11 to start the "My Computer"
Calculator : Press FN F12 to entry computer calculator
Illuminated LED Pattern
Hardware (Default)
LED Mode : Press FN INS, LED start entry colour marquee mode, wave flow mode,
splash mode, steady backlit mode, light up and fade mode,
breathing light mode, customize mode, spectrum cycling mode and
combination mode.
Note: The keyboard will light up with colour marquee mode when start to work then stay backlit continuously. The device will save the last operation record before power off.
LED Brightness : Press FN Pg Up is to 3 steps brighter the LED light
LED Brightness – : Press FN Pg Dn is to 3 steps lower brightness of the LED light
LED Spreading/Breathing speed down : Press FN Left arrow to change the spreading or breathing speed down.
LED Spreading/Breathing speed up : Press FN Right arrow to change the spreading or breathing speed up.
Game Customization LED Groups
1. 8 group pre-set LED for 8 different games (FN 1 to FN 8)
2. 2 group customization LED can customized (FN 9 and FN 10) – Press FN Home, to start set any key LED on
as you want. After that, then press FN END to safe the setting as complete.