Robot aliens taking over the world? You bet it is! This crazy looking robot is not what you think it is. Could you guess it? An AI-robot to work for you? Nah… but it's close enough! This sci-fi cool-looking spidey robot is actually a portable bluetooth speaker! Looking like something beamed in from a distant galaxy – a reconnaissance robot dispatched by an advanced civilisation to explore (and possibly conquer) the universe – fortunately for us earthlings the Armaggeddon Gravastar comes in peace. All it wants to do is rock out with us, at volume, and make our homes a little less staid. GravaStar is more than just another Bluetooth speaker. The aliens have reinvented how speakers are designed: tight, metal shell and sleek angles with built-in psychedelic lights, inspired by futuristic science fiction movies and games.
Armaggeddon GravaStar Bluetooth Portable Speakers (30 Hours Playback Time) 
Deep Bass (ETA 22 July 19)
The alien-looking robot speakers invades earth in the month of July! Be sure to get on it's good side!
For only RM699.00, You can get your hands-on with the all-new Armaggeddon GravaStar Speakers. Below are the specs for this bad boy. 
*Built-in powerful Kalimba DSP to enhance and ensure high fidelity wide sonic range superb-dynamic reproductions
*Extremely high compatibility
*80MHz RISC CPU and 80MHz Qualcomm
*Fully qualified single~chip dual mode Bluetooth V5.0 system
*Multi-audio format decoding : SBC , AAC
*Support True-Wireless Mode, Renders Real Stereo Sound Stages
*Support Full Broadcasting Mode, Renders Real Stereo Sound Stages
*Support Full Broadcasting Mode,Enables Up To Hundreds Of Unit Play Music Simultaneously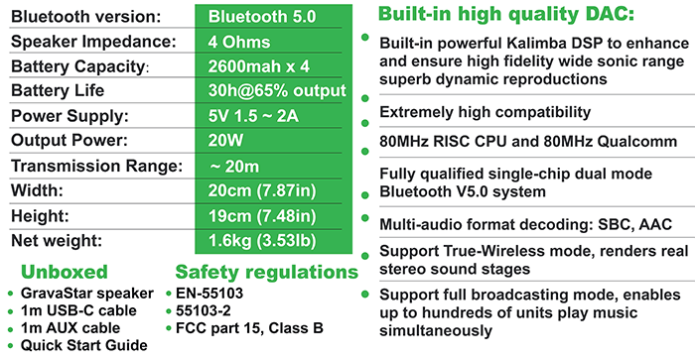 Gahhhh!! You can now scare your neighborhood with this Alien looking robot in your garden; pair with the Alien theme song, you could totally make a scene out from it. The quality of materials, components and construction bodes well for a long and happy life and the design is always a talking point. Much more than just a pretty (unusual) face, Armaggeddon Gravastar is a stellar speaker that delivers on all fronts. From design, built and sound quality – This alien attack is a benign invasion.